Policy
Ensuring transparency, soundness and efficiency
At RORZE, in order to achieve sustainable growth in an internationally competitive environment, we aim to make swift decisions by promoting an efficient organization and responding appropriately to changes in the business environment. Recognizing corporate governance as one of the important management issues, we are pursuing the fulfillment of our corporate social responsibility by ensuring the transparency, soundness, and efficiency of corporate management.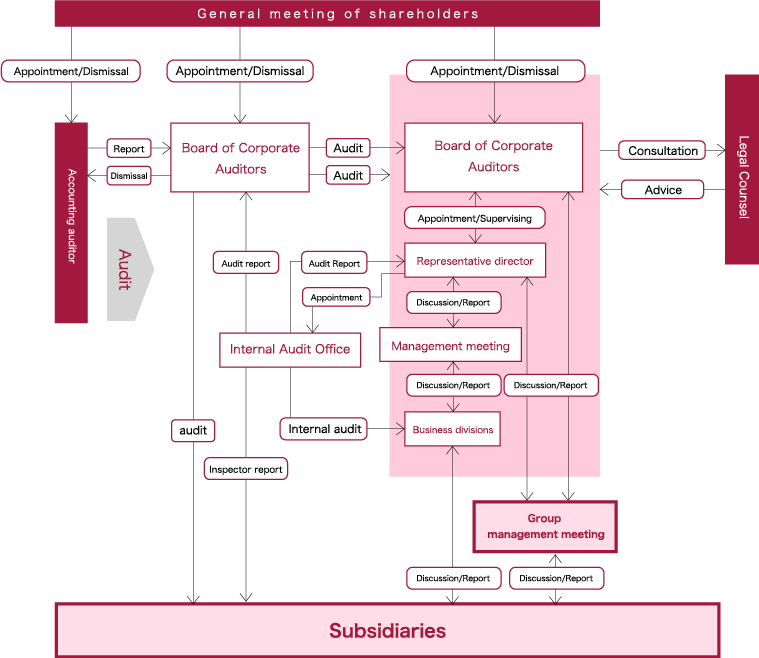 Execution system
Board of Directors
RORZE's Board of Directors is composed of seven directors, two of whom are outside directors. The Board of Directors meets periodically every month or whenever deemed necessary, to make decisions on matters stipulated by legal statutes and the articles of incorporation and important matters related to business, as well as to oversee the status of business execution.
Board of Corporate Auditors
RORZE has adopted a corporate auditor system. The Board of Corporate Auditors is composed of three outside auditors, and performs the management oversight function by attending the Board of Directors and other important meetings, viewing important documents, and auditing corporate auditors.
Accounting audit
RORZE has entered an audit agreement with Grant Thornton Taiyo LLC and is being audited. The certified public accountants who carried out the accounting audit in the previous consolidated fiscal year were Mr. Toru Yurue and Ms. Naoko Shibata.
Nomination and Compensation Committee
RORZE has established a Nomination and Compensation Committee as an internal committee of the Board of Directors. The role of the Nomination and Compensation Committee is to designate candidates for directors appointed at the general meeting of shareholders, and for the representative director appointed by the Board of Directors, to propose them to the Board of Directors. After conducting a comparative analysis of the compensation level by using an external survey, the committee will propose to the Board of Directors a compensation policy, compensation system, and individual compensation amount for each director that is globally competitive and appropriate for our group.
Management meeting
RORZE holds a management meeting once a week in principle, discusses important matters related to business execution based on the basic policy decided by the Board of Directors, and reports to the Board of Directors in a timely manner to enhance the overseeing function of the directors.
Group management meeting
Between RORZE and its subsidiaries,  group management meetings are held periodically to discuss general management and business strategies, as well as monitor and confirm the status of each company, for the purpose of achieving group wide growth by promoting group wide management strategies, and sharing information conducted by representatives from each company.